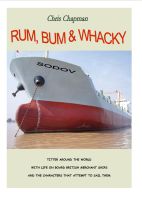 Not so much about ships, more about the characters that sail in them.
A veritable richness of oddballs grace the British Merchant Navy and here are a few reminiscences about those I've sailed with over a quarter of a century.
It is probable that those unlucky not to have gone to sea will believe the stories are fiction, but every seaman will nod their heads knowingly and mutter,
'That reminds me of…'
It was wonderful knowing every one of them.
Available in all digital forms from Smashwords www.smashwords.com/books/view/102648
Available in book form from Lulu                      www.lulu.com/content/paperback-book/rum-bum-whacky/710498